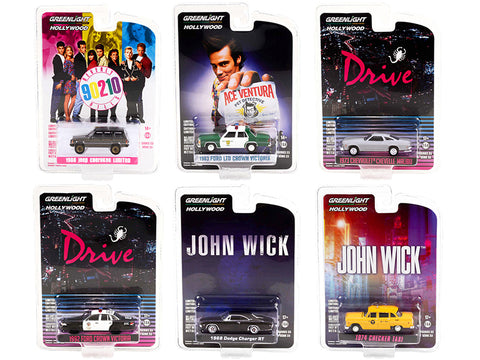 "Hollywood Series" Series #33 (6 Piece Set) 1/64 Diecast Models by Greenlight
Brand new 1/64 scale diecast models of "Hollywood Series" Series #33 (6 Piece Set) diecast models by Greenlight.
Brand new boxes.
Limited edition.
Chrome accents.
Real rubber tires.
Detailed exteriors.
True-to-scale detail.
Factory sealed case.
Authentic decoration.
Officially licensed product.
Custom themed packaging.
Die-cast metal body and chassis.
Manufacturer's original unopened packaging.
Each model is packed in an individual blister pack.
Dimensions of each car is approximately L-2.5-3.25 inches long.
PLEASE NOTE: Might come with a chase car instead of one of the cars in a set, but it is not guaranteed.

Set includes:

A 1973 Chevrolet Chevelle Malibu Matt Gray "Drive" (2011) Movie.
A 1968 Dodge Charger R/T Gloss Black with Vinyl Black Top "John Wick" (2014) Movie.
A 1988 Jeep Cherokee Limited Gray Metallic "Beverly Hills, 90210" (1990-2000) TV Series.
A 1974 Checker Yellow #5L89 "N.Y.C. Taxi" "John Wick: Chapter 3 - Parabellum" (2019) Movie.
A 1992 Ford Crown Victoria Police Interceptor Black and White "Los Angeles Police Department" (LAPD) "Drive" (2011) Movie.
A 1983 Ford LTD Crown Victoria Green and White "Miami-Dade Police Department" "Ace Ventura: Pet Detective" (1994) Movie.
---
We Also Recommend
---